I decided to quilt the blank blocks with a naturalistic looking tulip, with crosshatching around it.
I found a drawing of a pair of tulips on google image, can't find it now, but will search some more later.
I printed out the drawing and used a permanent marker and some template plastic to draw on to make the template.
I put the darning foot on my machine and a dull needle from another project and sewed along the lines to make perforations.
The little bag on the pic, is a piece of linen with cinnamon in it.
To mark the design, probably more difficult than it had to be since I had already layered and basted the quilt, I put the template over the block I wanted to quilt, then I used the cinnamon bag on the template and rubbed the cinnamon down all the little holes in the template.
When the template was carefully taken off, I used a watersoluble pen to draw up the lines.
I quilted the tulip first, and then I started on the crosshatching.
And finally how the block looks fully quilted.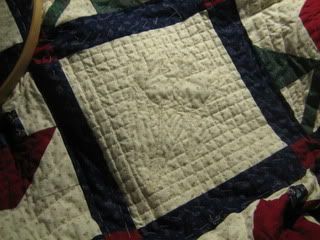 Constructive criticism is welcome. And how do I avoid bending my quilting needle? Tried a couple of different brands, I must be rather hard on the poor things.
Tania
I am slowly going through the handquilting of the tulip quilt.
Current Mood:

accomplished

Current Music:

Walking in Air