She had a dress she was really fond of in some gray matte smooth fabric, and so I copied it and put on some different embellishments, so it was not a direct copy.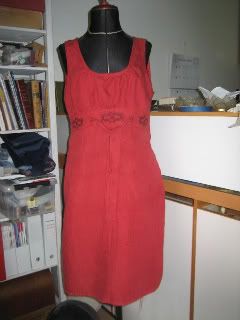 It does not hang properly on my dressform, as my sister is a different bodytype than I and 2 sizes larger.
I chose to use embroidery as an embellishment, to make it a bit more festive.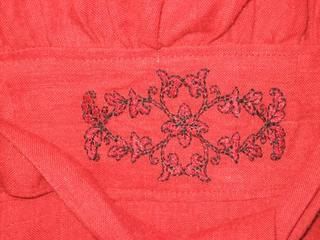 The design was a part of my Innovis4000d machine from brother. I gave my sister a choice as I made a sampler, both of the embellishment of the original dress, which was a band with a tuck in it every 8 cm around the waist or the embroidery with four different outline colours.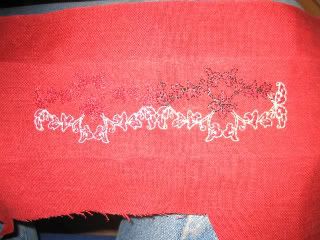 I have recently experimented with making hand bound buttonholes, and my machine cannot make buttonholes that are 4-5 cm long. I decided that the slits for the built in belt would have to be hand bound.
Finally a closer look at the bodice.
I just need a final fitting on my sister to be sure that the hem is even. I despite uneven hems. (I cringe when I see people walking down the street with a skirt that is uneven or longer on the sides than in front, and skirts that are longer on front than the back) Sorry, pet peeve.
For some reason I cannot shrink the embroidery pic, sorry, have tried.
From cloudy but temperate Denmark
Tania
It all started a couple of years back, when I was silly enough to buy some gorgeous linen on sale. Wonderful colour, not quite crayon red and not quite orange. Really wonderfull colour, but just NOT for me. I am a pasty faced blonde and that red colour would make me look jaundiced. My sister however looks wonderful in it.
Current Location:

Farum

Current Mood:

jubilant