Look what I got home with.
and
I also found some vintage patterns in a charity shop, all in all, I am really really happy.
I have some really nice dark blue wool in which I plan to make the jacket and trousers.
Tania
I took a trip to Copenhagen this weekend to find some patterns.
Current Mood:

happy
Measurements.
Before taking the measurements, take off any belts you might be wearing, tie a piece of ribbon around your waist, and make sure that it is correctly positioned.
You cannot measure yourself.



Measurements for Dresses and Blouses.
The bust circumference is taken, (with the underwear, you will be wearing with the clothes /Tania). The measuring tape is snug to the body without being tight.

Waist-measurement is taken, relatively tight.

Hips are measured around the widest spot.

Back length is measured from the nape of the neck to the waist. If you have trouble finding the correct spot, the put on a necklace and the necklace will rest at the correct spot.

Skirt-length is measured from the waist to the wished for length.

Length of sleeves are measured on the inside of the arm, or the sleeve seam. Look at illustration 2 and 3.
You need more ease in nightclothes and outerwear, but that has been taken into consideration, so use the same number, as you would for dresses.


Measurements for Slacks.
Waist measurement is taken, relatively tight.

Hips are measured around the widest spot.

Sidelength is measured from the waist to the desired length. See illustration 4.
Measurements for Men's Shirts.
The neck is measure, or use the neck of a shirt, you know fits well.
You also need the width of the back from arm-pit to arm-pit.
For men's pajamas you also need the measurements of the chest (I cannot very well call it the bust circumference, wouldn't be manly /Tania), the waist, back-length, sleeve-length and sidelength for the trousers.
Measuring Dolls.
Here you only need the circumference of the chest and the length of the back. Illustrations 5 and 6.
The measuring chart has empty spaces for your use. When you take your measurements of your children or husband, or have your own taken, the jot them down in the book, so that you do not loose them.
What Size Pattern do I use?
When you have done your measuring, then you can find your size using the size chart. Patterns are split into several groups. There are baby patterns; you cannot really measure a baby, so there you go by the child's age and size. There are patterns for 6, 12,18 and 24 months. Children's patterns are from age 2-14. The sizes are meant for undeveloped girls, if they have developed a figure, then use the patterns for teenagers. The teenage patterns go from age 13 to 19 and the sizes goes from a size 36, 38, 40 and 42. Between the ages of 13 and 19 most average women have a smaller waist and hips than the slightly older woman, this means, that patterns have to directed at this specific age group. After that comes the ordinary women's patterns size 38, 40, 42, 44 and 46 and finally patterns for the matrons (couldn't find a better word /Tania).
For grown men there are patterns for shirts and pajamas; the shirts can be used for ordinary shirts as well as work and sports shirts.
And finally there are patterns for doll's clothes, see later in the book about the use of those.
Once you have found your size you need for yourself or your child, then you can sew any piece of clothes, using the same size, that is, so long that you do not change shape or your child grows.
The rule for children is that you usually choose a pattern that is slightly too large, so that the child does not grow out of the clothes immediately. If you are sewing nightclothes or outerwear, then you need more easy, but use the same size as for other clothes, since the ease is included in the pattern.
If it turns out that you need your blouse in one size and your skirt in another, then you just copy two different sizes and go on from there.
Introduction.
Sewing can be fun, exciting and satisfying, no matter if you sew by necessity, or to earn or save money, or perhaps just as a hobby. You will find satisfaction in using your intelligence to express your own personality and your creativity. The more you sew, the more your talent will develop and the more it will amuse you. Sewing will lead you into a new world, where you can spend your time on fabrics, colours, lines and style. You will appreciate the things you buy already sewed or hire to have sewed. You will have greater respect for the things you own and wear. A human, who has a hobby, is a human who has an interesting life. Why not let sewing by Your hobby, when you thereby save money and have fun. A hobby, that both develop your mind and your hands, and makes it impossible to be bored or disgruntled. Few joys are greater than having a well done item of clothes, made by your own hand, but well done sewing does not come by wishing for a well made wardrobe, but by meticulous work, real knowledge and not the least accuracy.
(
more talk on how wonderful sewing will be for you and your family
Collapse
)
DISCLAIMER; As I have contacted the publishing company, who no longer has the rights to the book, and have been unable to find any heirs of the author, I feel like I have done what I could to get permission. If said heirs do turn up and do not give permission for this work to be accessible, which I find highly unlikely, then I will of course delete these posts again.
Another disclaimer, I am not a professional translator, but I am willing to correct mistakes in spelling and meaning, if you find them.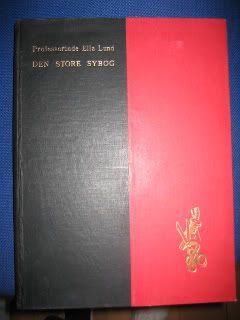 The book contains the book and 42 pattern sheets. I will translate the book and add the pattern sheet relevant to the chapter, you will have to print it out and tape it together.
Here is the foreword by Ella Lund, the introduction will come tomorrow.
Tania
(
Foreword
Collapse
)
As previously mentioned on this blog, I own a sewing book by Ella Lund called "Professorinde Ella Lunds Store Sybog" or translated "The Large Sewing Manual by Professora Ella Lund".
Current Location:

Copenhagen

Current Mood:

cheerful

Current Music:

Walking on the Air by Celtic woman
She had a dress she was really fond of in some gray matte smooth fabric, and so I copied it and put on some different embellishments, so it was not a direct copy.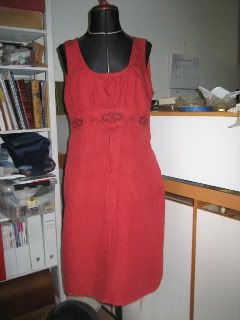 It does not hang properly on my dressform, as my sister is a different bodytype than I and 2 sizes larger.
I chose to use embroidery as an embellishment, to make it a bit more festive.
The design was a part of my Innovis4000d machine from brother. I gave my sister a choice as I made a sampler, both of the embellishment of the original dress, which was a band with a tuck in it every 8 cm around the waist or the embroidery with four different outline colours.
I have recently experimented with making hand bound buttonholes, and my machine cannot make buttonholes that are 4-5 cm long. I decided that the slits for the built in belt would have to be hand bound.
Finally a closer look at the bodice.
I just need a final fitting on my sister to be sure that the hem is even. I despite uneven hems. (I cringe when I see people walking down the street with a skirt that is uneven or longer on the sides than in front, and skirts that are longer on front than the back) Sorry, pet peeve.
For some reason I cannot shrink the embroidery pic, sorry, have tried.
From cloudy but temperate Denmark
Tania
It all started a couple of years back, when I was silly enough to buy some gorgeous linen on sale. Wonderful colour, not quite crayon red and not quite orange. Really wonderfull colour, but just NOT for me. I am a pasty faced blonde and that red colour would make me look jaundiced. My sister however looks wonderful in it.
Current Location:

Farum

Current Mood:

jubilant
I decided to dig out a couple of vintage sewing books I got. I collect old sewing and handiwork manuals, preferable from before 1960.
I wanted to start somewhere reasonably easy, so I decided to go with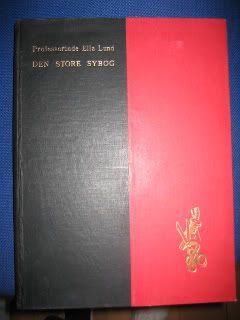 Which is a book I picked up at a fleamarket, it comes accompanied by 42 sheets of patterns, that range from babies, over children, teens, women and a few mens patterns. The title roughly translates to "Professora Ella Lund's Large Sewing manual"
(
Read more...
Collapse
)
Tania

I have recently started to read a lot of vintage sewing blogs, like Gertie's Blog for Better Sewing and Dress a Day.
Current Location:

Denmark

Current Mood:

calm

Current Music:

Ain't Got no Tears Left in Heaven, Big Fat Snake
I decided to quilt the blank blocks with a naturalistic looking tulip, with crosshatching around it.
I found a drawing of a pair of tulips on google image, can't find it now, but will search some more later.
I printed out the drawing and used a permanent marker and some template plastic to draw on to make the template.
I put the darning foot on my machine and a dull needle from another project and sewed along the lines to make perforations.
The little bag on the pic, is a piece of linen with cinnamon in it.
To mark the design, probably more difficult than it had to be since I had already layered and basted the quilt, I put the template over the block I wanted to quilt, then I used the cinnamon bag on the template and rubbed the cinnamon down all the little holes in the template.
When the template was carefully taken off, I used a watersoluble pen to draw up the lines.
I quilted the tulip first, and then I started on the crosshatching.
And finally how the block looks fully quilted.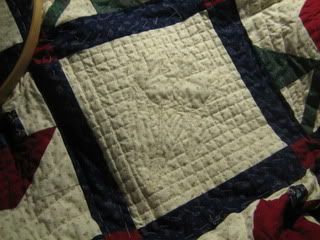 Constructive criticism is welcome. And how do I avoid bending my quilting needle? Tried a couple of different brands, I must be rather hard on the poor things.
Tania
I am slowly going through the handquilting of the tulip quilt.
Current Mood:

accomplished

Current Music:

Walking in Air
This quilt was begun by my mother, who unfortunately passed away last year. I am quilting it for my sister, for a combined Birthday/christmas present from me and our mother.
Tania
I am going through the process of handquilting
Current Location:

Farum

Current Mood:

thoughtful
I am finally in the mood to post a little again. Not that I have been idle, but I have not posted anything about it.