This quilt was begun by my mother, who unfortunately passed away last year. I am quilting it for my sister, for a combined Birthday/christmas present from me and our mother.
It all began when I went through my mothers sewing stuff after her death. Noone else in my family was interested in her fabric or other things related to the craft, so I got it all. Among those were a book by Eleanor Burns, "Tulip Quilt" from "Quilts in a Day"
A very nice book and about 17 finished blocks. I decided that i wanted sashing, and I wanted to open it up a bit, so I added some alternate blocks with nothing but the background fabric, so I could quilt a design on that. I couldn't use all the blocks, since the quilt would get way too big, it is 190 by 190 cm right now.
I put together the blocks with the sashing and the first border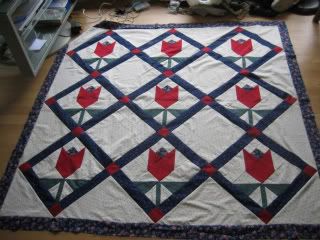 I then added two more borders to end up with the original picture.
I taped the backing fabric, which is the same as the cream/offwhite border, to the floor, spread the batting over it and smoothed it out, and then put on the top. Then came the big job of basting the thing, and these are the tools I used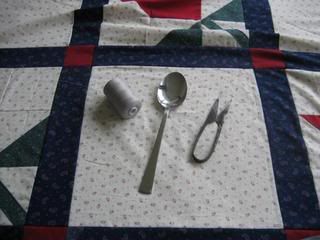 Using the spoon to get the tip of the needle out of the quiltsandwich made basting a whole lot easier.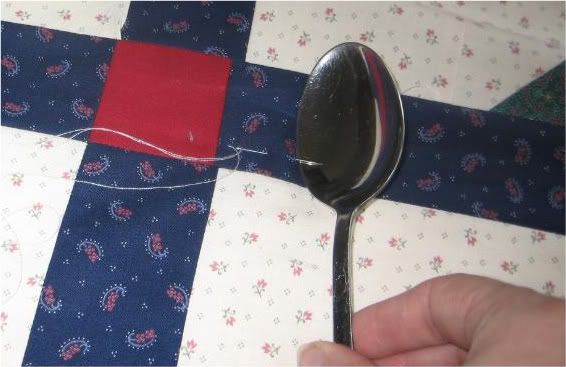 Hooped it up to start the handquilting, decided to do a radial design in the red flower and the white background of the tulip blocks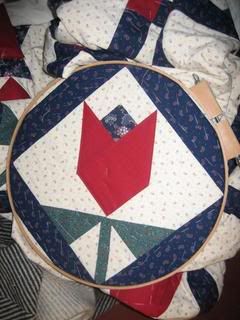 Closeup of the radial quilting of the flower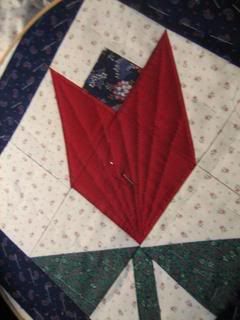 .
Tania
I am going through the process of handquilting
Current Location:

Farum

Current Mood:

thoughtful